End of Tenancy Cleaning in East London and Essex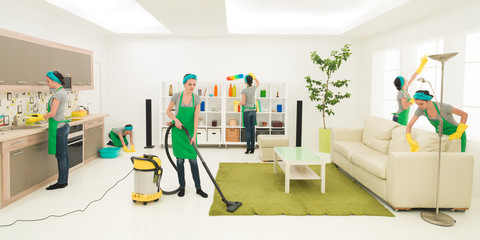 Are you moving out of your rental property in Loughton, Woodford, Walthamstow, East London or Essex? Do you want to ensure you get your deposit back? Look no further than our professional and reliable end of tenancy cleaning services! Whether you're a tenant or a landlord, our local end of tenancy cleaning company Happy Services London is here to make your moving out process hassle-free and seamless. Booking for end of tenancy cleaning has never been easier with our user-friendly contact forms. Simply tell our customer service advisor the necessary details to secure your slot. Rest assured that with our efficient booking system, your end of tenancy cleaning worries will be a thing of the past. Worried about the costs? Fret not! We offer a transparent quote for end of tenancy cleaning that aligns with your specific requirements and budget. No hidden charges or surprise fees—what you see is what you get. Our competitive pricing coupled with our exceptional service ensures that you get the best value for your money. We believe in providing top-notch service at affordable rates, so you can leave your old property sparkling clean without breaking the bank. When it comes to end of tenancy cleaning, you need a reliable end of tenancy cleaner who pays attention to detail and leaves no corner untouched. Our team of fantastic cleaners is highly trained and equipped with the latest tools and eco-friendly products to deliver exceptional results.
They are meticulous in their approach, leaving your property spotless and ready for inspection. With the expertise of Happy Services London, you can be confident that you'll receive your 100% deposit back, without any deductions for cleanliness issues. We understand that every property is unique, and so are its cleaning needs. Whether it's a studio apartment, a sprawling penthouse, or a cozy family home, our professionals tailor their services to match your specific requirements. From thorough dusting and sanitizing to professional carpet cleaning, we ensure that every nook and cranny is meticulously cleaned to perfection. Our comprehensive end of tenancy cleaning checklist covers everything from kitchen appliances to bathroom tiles, leaving no room for any complaints during the final inspection. At our Essex cleaning company Happy Services London based in Loughton IG10, customer satisfaction is our top priority. We go the extra mile to ensure that you're completely satisfied with our services. In the unlikely event that you're not fully content with the results, we offer up to 72 hours for a re-clean. Your peace of mind is our commitment, and we strive to make your moving out process as smooth as possible. Don't let the stress of moving out cleaning weigh you down. Trust our experienced professionals to handle the dirty work while you focus on settling into your new abode. With our reliable and efficient services, you can bid farewell to your old property without any cleaning-related worries. Book your end of tenancy cleaning with Happy Services London today and experience the difference of a pristine and immaculate space, ready for its next occupants.